Views: 1446
Read Time:
7 Minute, 13 Second
The Vindhyachal Chalisa is a devotional hymn dedicated to the goddess Vindhywasini, who is believed to be a form of the goddess Durga (Aadi-Shakti). The melody is in the form of forty verses or chaupais and is chanted by devotees to seek blessings from the goddess.
The hymn begins with a Doha or couplet invoking the goddess and seeking her blessings. The following forty verses describe the various qualities and attributes of the goddess and extol her power and glory.
The Chalisa also mentions various forms of the goddess, such as Uma, Madhavi, Chandika, and Hemavati, and describes her as the protector of the Vindhyachal.
Chanting the Vindhyachal Chalisa is believed to bring peace, prosperity, and spiritual upliftment to the devotee and is often performed during festivals and auspicious occasions.
The Vindhyachal Chalisa is a Hindu devotional hymn dedicated to the goddess Vindhyavasini, also known as Vindhyeshwari or Jagdamba. The Chalisa consists of forty verses and is believed to have originated in the Vindhya mountain range in India.
The hymn begins with the devotee offering salutations to the goddess and acknowledging her as the supreme power. Then, it describes the goddess's various forms and divine attributes. It also highlights the multiple benefits of reciting the Chalisa, such as attaining worldly and spiritual success, freedom from afflictions, and fulfilling desires.
The Vindhyachal Chalisa is considered a powerful tool for invoking the blessings of the goddess and is often recited by devotees during special occasions and festivals. It is believed that reciting the Chalisa with devotion and sincerity can bring about positive changes in one's life and lead to spiritual growth.
Vindhyachal Chalisa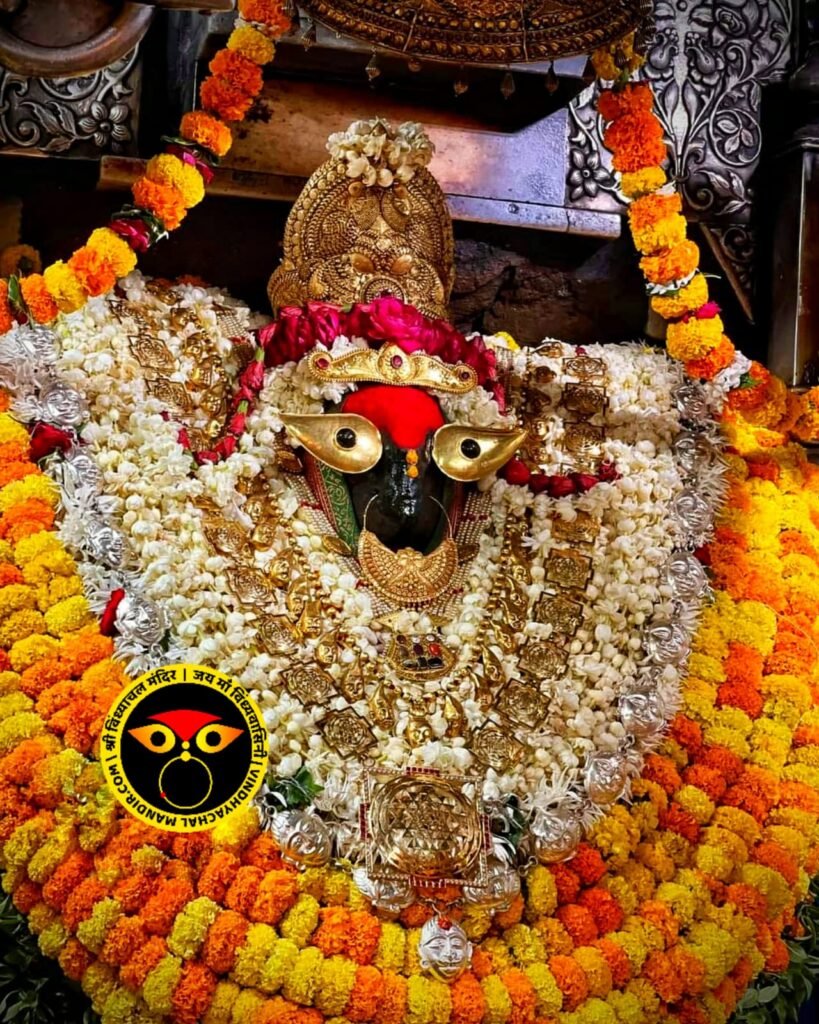 Vindhyachal Chalisa Lyrics in Hindi
|| दोहा ||
नमो नमो विन्ध्येश्वरी, नमो नमो जगदंब।
संत जनों के काज में, करती नहीं बिलंब॥
|| चौपाई ||
जय जय जय विन्ध्याचल रानी। आदि शक्ति जगबिदित भवानी॥
सिंह वाहिनी जय जगमाता। जय जय जय त्रिभुवन सुखदाता॥
कष्ट निवारिनि जय जग देवी। जय जय संत असुर सुरसेवी॥
महिमा अमित अपार तुम्हारी। सेष सहस मुख बरनत हारी॥
दीनन के दु:ख हरत भवानी। नहिं देख्यो तुम सम कोउ दानी॥
सब कर मनसा पुरवत माता। महिमा अमित जगत विख्याता॥
जो जन ध्यान तुम्हारो लावे। सो तुरतहिं वांछित फल पावे॥
तू ही वैस्नवी तू ही रुद्रानी। तू ही शारदा अरु ब्रह्मानी॥
रमा राधिका स्यामा काली। तू ही मात संतन प्रतिपाली॥
उमा माधवी चंडी ज्वाला। बेगि मोहि पर होहु दयाला॥
तुम ही हिंगलाज महरानी। तुम ही शीतला अरु बिज्ञानी॥
तुम्हीं लक्ष्मी जग सुख दाता। दुर्गा दुर्ग बिनासिनि माता॥
तुम ही जाह्नवी अरु उन्नानी। हेमावती अंबे निरबानी॥
अष्टभुजी बाराहिनि देवा। करत विष्णु शिव जाकर सेवा॥
चौसट्टी देवी कल्याणी। गौरि मंगला सब गुन खानी॥
पाटन मुंबा दंत कुमारी। भद्रकाली सुन विनय हमारी॥
बज्रधारिनी सोक नासिनी। आयु रच्छिनी विन्ध्यवासिनी॥
जया और विजया बैताली। मातु संकटी अरु बिकराली॥
नाम अनंत तुम्हार भवानी। बरनै किमि मानुष अज्ञानी॥
जापर कृपा मातु तव होई। तो वह करै चहै मन जोई॥
कृपा करहु मोपर महारानी। सिध करिये अब यह मम बानी॥
जो नर धरै मातु कर ध्याना। ताकर सदा होय कल्याणा॥
बिपत्ति ताहि सपनेहु नहि आवै। जो देवी का जाप करावै॥
जो नर कहे रिन होय अपारा। सो नर पाठ करे सतबारा॥
नि:चय रिनमोचन होई जाई। जो नर पाठ करे मन लाई॥
अस्तुति जो नर पढै पढावै। या जग में सो बहु सुख पावै॥
जाको ब्याधि सतावै भाई। जाप करत सब दूर पराई॥
जो नर अति बंदी महँ होई। बार हजार पाठ कर सोई॥
नि:चय बंदी ते छुटि जाई। सत्य वचन मम मानहु भाई॥
जापर जो कुछ संकट होई। नि:चय देबिहि सुमिरै सोई॥
जा कहँ पुत्र होय नहि भाई। सो नर या विधि करै उपाई॥
पाँच बरस सो पाठ करावै। नौरातर महँ बिप्र जिमावै॥
नि:चय होहि प्रसन्न भवानी। पुत्र देहि ताकहँ गुन खानी॥
ध्वजा नारियल आन चढावै। विधि समेत पूजन करवावै॥
नित प्रति पाठ करै मन लाई। प्रेम सहित नहि आन उपाई॥
यह श्री विन्ध्याचल चालीसा। रंक पढत होवै अवनीसा॥
यह जनि अचरज मानहु भाई। कृपा दृष्टि जापर ह्वै जाई॥
जय जय जय जग मातु भवानी। कृपा करहु मोहि पर जन जानी॥
|| इति श्री विन्ध्येश्वरी चालीसा समाप्त ||
Vindhyachal Chalisa Lyrics in English

|| Doha ||
Namo Namo Vindhyeshwari, Namo Namo Jagdamb.
Sant Jano Ke Kaj Mein, Karati Nahi Vilamb.
|| Chaupai ||
Jai Jai Jai Vindhyachal Rani, Aadi Shakti Jagvidit Bhawani.
Sinhvahini Jai Jagmata, Jai Jai Jai Tribhuvan Sukhdata.
Kasht Nivanini Jai Jag Devi, Jai Jai Sant Asur Sursevi.
Mahima Amit Apar Tumhari, Sesh Sahas Mukh Barnat Hari.
Deenan Ke Dukh Harat Bhawani, Nahi Dekhyo Tum Sam Kou Dani.
Sab Kar Mansa Purvat Mata, Mahima Amit Jagat Vikhyata.
Jo Jan Dhyan Tumharo Lave, So Turatihin Vanchhit Phal Pave.
Tu Hi Vaishnavi Tu Hi Rudrani, Tu Hi Sharda Aru Brhamani.
Rama Radhika Syama Kali, Tu Hi Matu Santan Pratipali.
Uma Madhvi Chandi Jwala, Begi Mohi Par Hohu Dayala.
Tum Hi Hinglaj Maharani, Tum Hi Sheetala Aru Bigyani.
Tumhi Lakshmi Jag Sukh Data, Durga Durg Binasini Mata.
Tum Hi Janhavi Aru Unnani, Hemavati Ambe Nirbani.
Ashtabhuji Barahini Deva, Karat Vishnu Shiv Jakar Seva.
Chausatti Devi Kalyani, Gauri Mangala Sab Gun Khani.
Patan Mumba Dant Kumari, Bhadrakali Sun Vinay Hamari.
Bajradharini Soknasini, Aayu Rakchhani Vindyavasini.
Jaya Aur Vijaya Vaitali, Matu Sankati Aru Bikarali.
Naam Anant Tumhar Bhawani, Barnanai Kimi Manush Agyani.
Japar Kripa Matu Tav Hoi, To Vaha Kare Chahe Man Joi.
Kripa Karahu Mopar Maharani, Siddh Kariye Ab Yeh Mam Bani.
Jo Nar Dhare Matu Kar Dhyana, Taka Sada Hoy Kalyana.
Bipati Taki Sapanehu Nahi Ave, Jo Devi Ka Jap Karave.
Jo Nar Kahe Nin Hoi Apara, So Nar Path Kare Satbara.
Nischay Rinmochan Hoi Jai, Jo Nar Path Kare Man Lai.
યેહ Stuti Jo Nar Padhe Padhave, Ya Jag Mein So Bahu Sukh Pave.
Jako Byadhi Satave Bhai, Jap Karat Sab Door Parai.
Jo Nar Ati Bandi Mahn Hoi, Bar Hazar Path Kar Soi.
Nischay Bandi Te Chhuti Jai, Satya Vachan Mam Manahu Bhai.
Japar Jo Kuchh Sankat Hoi, Nischay Debihin Sumire Soi.
Ja Kahan Putra Hoi Nahin Bhai, So Nar Ya Vidhi Kare Upai.
Panch Baras So Path Karave, Nauratar Mahn Vipir Jimave.
Nischay Hohi Prasanna Bhawani, Putra Dehi Takahan Gunkhani.
Dhwaja Nariyal Aan Chadhave, Vidhi Samet Poojan Karave.
Nit Prati Kare Man Lai, Prem Sahit Nahin Aan Upai.
Yeh Shri Vindhyeshwari Chalisa, Rank Padhat Hove Avaneesa.
Yeh Jani Acharak Manahu Bhai, Kripa Drishti Japar Hwai Jai.
Jai Jai Jai Jag Matu Bhawani, Kripa Karahu Mohi Praja Jani.
।। Iti Vindheshwari Chalisa Ends ।।
Which Shakti Peeth is on Vindhyachal?
The Vindhyavasini Devi Temple is considered one of the 51 esteemed Shakti Peethas, where the complete divine embodiment of Goddess Sati is held in high reverence with utmost devotion.