Views: 2401
Read Time:
12 Minute, 25 Second
Table of Contents
Vindhyachal Temple is located in Vindhyachal town in the Mirzapur district, Uttar Pradesh. This temple is dedicated to Vindhyavasini Devi which is situated on the banks of the river Ganga. This temple is considered to be one of the Shakti Peethas of Goddess Durga. Here people visit for the blessings of Maa Vindhyavasini and wish for happiness and peace.
According to the Puranas, Lord Ram came to this place during his exile and performed a yagya here seeking the blessings of the Goddess at Ram Gaya Ghat. Apart from this, the Pandavas also came to visit this temple and worshipped the Goddess.
How to reach Vindhyachal Temple from Varanasi
Distance between Varanasi to Vindhyachal Temple is approx 64 km journey that takes 1-2 hours. To reach the destination, one can hire a taxi or take a bus.
Hotels in Vindhyachal
There are several hotels and guesthouses available in Vindhyachal to suit different budgets and preferences. Some popular options include Hotel Vindhya Residency, Hotel Sandeep International, Hotel Aadi Shakti Palace, Shailshiv Atithi Bhavan, Hotel Jahnvi Mirzapur (U.P. Tourism)
Vindhyachal Temple Timings
Vindhyachal Temple's timing is from morning 5:00 am to 12:00 noon, from 1:30 pm to 7:15 pm in the evening, and from 8:15 pm to 10:30 pm at night. It's open every day of the week.
How to reach Vindhyachal?
You can use several different methods to reach Vindhyachal.
By Air: Flights are easily available from nearby cities. The nearest airport is Lal Bahadur Shastri Airport Varanasi, which is 62 km away from Vindhyachal.
By Rail: The nearest railway station is Mirzapur, Varanasi, and Vindhyachal. From there, you can travel to Vindhyachal using a taxi, bus, or auto.
By Road: You can reach Vindhyachal via vehicle, cab, or public transport like a bus. Vindhyachal distance is 62 km from Varanasi.
Helicopter route: Helicopter services are also available to Vindhyachal Temple, which is available from Varanasi and other cities.
Where to stay in Vindhyachal?
After reaching Vindhyachal temple, most of the people return only after visiting here. But if you are thinking of staying here then there are some options for you.
Temple Accommodation: You will get a choice of a few Dharamshala and temple accommodations near Vindhyachal Temple. These are inexpensive and provide you with a comfortable space for peace and meditation.
Hotels and Resorts: There are also some hotels and resorts around Vindhyachal which provide you with a comfortable stay.
Mirzapur City: If you are looking for some more options around Vindhyachal then Mirzapur city can be an option for you. Here you will find some good hotels, restaurants and other accommodation facilities.
There are many hostels, Dharamsala, hotels, and lodges where you can stay in the vicinity of Vindhyachal Temple. Some popular options are the following:
Lakhi Prasad Goenka Dharamshala: This Dharamshala is in the vicinity of Vindhyachal Temple and comfortable rooms are available.
Hotel Vindhya Residency: This hotel is located a short distance from Vindhyachal Temple. Here you will find comfortable rooms available on a budget.
Hotel Jahnvi Mirzapur (U.P. Tourism): This hotel is located in Mirzapur and is about 5 km from Vindhyachal Temple. Here you will find comfortable rooms that suit your budget.
You can also book Vindhyachal online or by telephone.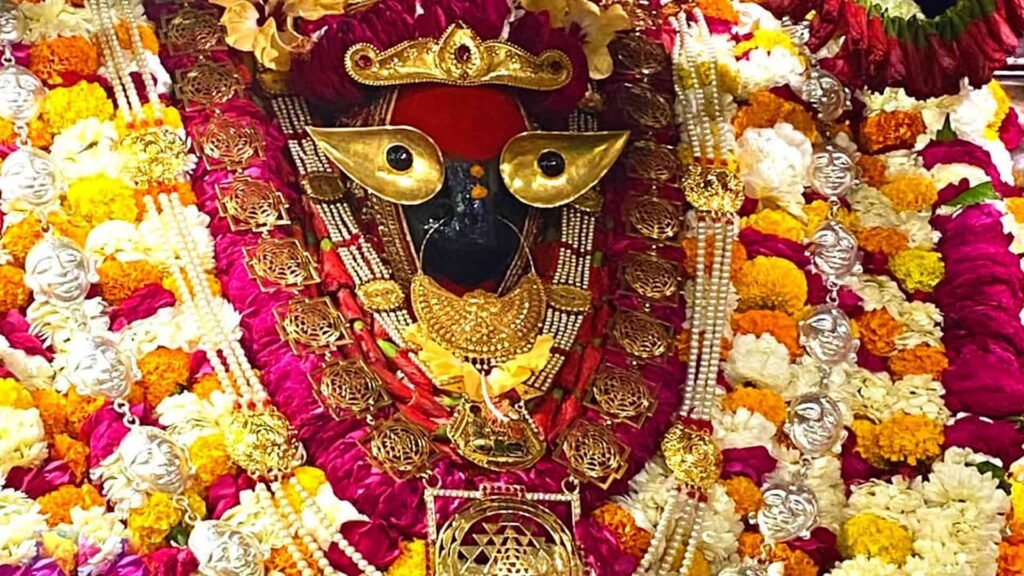 Information about tourist places in Vindhyachal
Vindhyachal is a popular tourism destination known for its natural beauty and religious significance. Some of the main tourist attractions in this place are:
Vindhyachal Street Shopping: Here, you can buy exclusive local handicraft products like Wooden toys, ceramic pots, marble, sindoor, etc.
Ram Ghat
Ram Ghat is a popular tourist place in Vindhyachal on the banks of the holy river Ganges. It is a sacred spot where devotees take a holy dip in the river and offer prayers to Lord Ram. According to Hindu mythology, it is believed that Lord Ram visited this place during his exile and performed a puja to seek blessings from the river Ganges.
Ram Ghat is also famous for its evening aarti, where devotees light lamps and offer prayers to the Ganges. Watching the lamps floating on the river during the aarti is a beautiful sight.
Besides its religious significance, Ram Ghat also offers beautiful views of the Ganges and the surrounding hills. It is a great place to spend some time in the lap of nature and experience the spiritual essence of Vindhyachal.
Kalikhoh
Kali Khoh Temple is a famous Hindu temple located on the banks of the holy river Ganges and is dedicated to Maa Kali.
The entrance of the Cave is adorned with sculptures of various Hindu deities. The temple's inner sanctum is the idol of the Maa Kali, which is believed to be more than 5000 years old.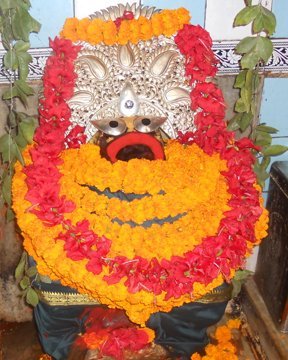 Legend has it that this is where Goddess Kali appeared to kill the demon Raktabija. The temple is also associated with the famous legend of the goddess Sati and Lord Shiva. According to the myth, when Sati's father insulted Lord Shiva, Sati immolated herself, and Lord Shiva carried her body on his shoulders, which caused the creation of the 51 Shakti Peethas, with Kali Khoh Temple being one of them.
Besides its spiritual significance, Kali Khoh Temple is also a popular tourist destination, attracting thousands of visitors annually.
In conclusion, Kali Khoh Temple symbolizes India's rich cultural heritage and spirituality. The temple's beautiful architecture, ancient history, and mythology make it a fascinating destination for tourists and devotees. A visit to the Kali Khoh Temple is an unforgettable experience that will leave a lasting impression on anyone visiting this holy shrine.
Mata Ashtabhuja Devi's name translates to "mother with eight hands." Her eight hands are used to bless her followers. A lengthy, deep tunnel contains Maa Ashtabhuja's idol. To ensure that tourists have no difficulties, lighting has been installed to illuminate the Cave.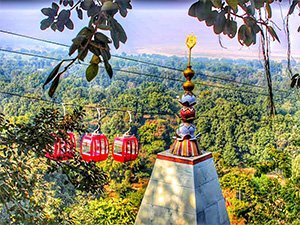 Maa Ashtabhuja Devi Ji's temple, located atop Vindhya Mountain, is a well-known and historic temple. This temple is placed inside the Cave, which makes it much more holy and pleasant since the eternal flame is burning there. This temple draws visitors and believers alike because of its serene environment. One hundred sixty stone stairs must be climbed to get to the temple, which is located atop the Vindhyachal mountain.
Sita Kund
Sita Kund is a sacred site located in Vindhyachal. It's popularly believed to be where Goddess Sita had bathed during her exile in the forest.
The Sita Kund is situated on the bank of the river Ganga, near the holy shrine of Vindhyavasini Devi. The site is marked by a small pond or kund, which is considered to be the spot where Sita had taken a bath. According to legend, the kund was created by Lord Rama himself for his wife's comfort during their exile in the forest.
Beautiful hills surround the Sita Kund and are a popular destination for pilgrims and tourists. It is said that dipping in the kund can purify one's soul and wash away sins. The water of the kund is believed to possess healing powers and is said to cure various ailments.
The Sita Kund is also associated with the Hindu festival of Navratri, which is celebrated twice a year in the months of Chaitra and Ashwin. The kund and the surrounding area are beautifully decorated and illuminated during Navratri. Devotees from around the country visit the site to offer prayers and seek blessings.
Apart from the Sita Kund, Vindhyachal is known for its ancient temples and shrines. The Vindhyachal Devi Temple, located nearby, is one of the region's most famous temples and attracts many devotees every year.
In conclusion, Sita Kund is a sacred site with deep spiritual significance for Hindus. It is a place of great importance for Lord Rama's and Goddess Sita's devotees and attracts visitors from all over the country. The serene surroundings and the pure water of the kund make it a must-visit destination for anyone visiting the town of Vindhyachal.
Motiya Talab
Motiya Talab is a significant pond located in the Vindhyachal mountain range and is considered a sacred site by the locals.
The pond is said to be named after the pearls (moti) once found in its waters. The popular belief is that Lord Ram created the lake during his journey to rescue his wife, Sita, from the demon king Ravana. According to legend, Lord Ram shot an arrow into the ground, and a spring of water emerged, eventually forming the Motiya Talab.
The pond's area is surrounded by greenery, and many devotees come here to offer Pooja. Motiya Talab is also known for its natural beauty and is a popular spot for picnics and day trips.
The pond is also known for its healing properties, and many people come to Motiya Talab to seek relief from various ailments. The water (Jal) of the pond is said to have some medicinal properties and is widely believed to cure skin diseases, asthma, and other respiratory problems (not medically proven).
Besides its religious and medicinal significance, Motiya Talab is also a popular bird-watching spot. Several temples are located in the vicinity of Motiya Talab, including the Vindhyavasini Temple, one of the major attractions in Vindhyachal.
Overall, Motiya Talab is a place of great spiritual and cultural significance in Vindhyachal and a must-visit for anyone seeking a peaceful and meaningful experience.
Nag Kund
Nag Kund is a sacred pond in Vindhyachal, a pilgrimage site in the Indian state of Uttar Pradesh. It is situated near the famous Vindhyavasini Devi Temple and is considered a significant place of worship by Hindus.
According to Hindu mythology, Nag Kund is associated with Lord Shiva and the Nagas (serpent deities). It is believed that during the churning of the ocean (Samudra Manthan), the Nagas approached Lord Shiva and sought his help in protecting them from the poison that emerged from the ocean. Lord Shiva drank the poison and held it in his throat, which turned blue. The Nagas offered water from their sacred ponds, including Nag Kund, to cool his throat.
The water of Nag Kund is said to have medicinal properties and is believed to cure various ailments. It is also considered auspicious for devotees to dip in the holy pond and seek the blessings of Lord Shiva and the Nagas. Nag Panchami, a festival dedicated to snakes, is celebrated enthusiastically at Nag Kund.
Apart from its religious significance, Nag Kund is also a popular tourist attraction due to its scenic beauty and serene environment. Visitors can enjoy a peaceful walk around the pond, sit by its banks, and soak in the tranquil atmosphere.
Lal Bhairav Temple
The Lal Bhairav Temple is believed to be the guard of Vindhyavasini Devi and is located near the main temple. It is a small temple with a Murti of Bhairava in red color. The temple is considered to be the most straightforward possible temple.
According to local beliefs, visiting Lal Bhairav Temple first and seeking his permission before visiting the Vindhyavasini Devi Temple is essential. The temple is also associated with the 11 Bhairavas across India, with one at Kashi, another at Ujjain, and the remaining nine at different Devi kshetras.
A sadhu sitting near the temple can share more stories and information about the temple and its significance. Visitors can also offer prayers and seek blessings from the deity.
Gerua Talab
Gerua Talab is a sacred pond in Vindhyachal, a town in the Mirzapur district of Uttar Pradesh, India. It is situated on the hillock where the Ashtabhuja Temple is located. The pond is considered holy and is believed to have been used by the erstwhile kings to perform religious rites and pujas to appease the goddess Durga to obtain her blessings for destroying their rivals and enemies.
The pond is named after the color "gerua" (ochre), which is associated with Hindu ascetics and sadhus who wear robes of this color. Gerua Talab, along with Sita Kund and Motiya Talab, is one of the three sacred ponds on Ashtabhuja Hill. Visitors can offer prayers and dip in the holy water of Gerua Talab to seek blessings from the goddess.
Here are some travel tips, If you are planning to visit Vindhyachal Mandir
Plan your trip: Vindhyachal is a popular destination, especially during Navratri festivals and peak seasons. We highly suggest planning your trip and booking your stay and travel ahead of time to avoid any hassle. Plan your visit during the winter months (October to February) when the weather is pleasant and ideal for temple visits.
Dress modestly: Vindhyachal Mandir is a holy place, and visitors are expected to dress modestly. Avoid wearing shorts, skirts, and revealing clothing, and covering your head with a scarf or dupatta while inside the temple premises is also customary.
Respect the customs and traditions: Remove your footwear before entering the temple premises, and avoid touching the idols or photographing inside the temple.
Stay hydrated: Vindhyachal can get quite hot during summer, so it is essential to stay hydrated. Try to Carry a water bottle and keep yourself hydrated throughout the day. Don't forget to try the local cuisine, a mix of north Indian and local flavors.
Be mindful of the crowd: Vindhyachal Mandir attracts devotees, especially during festivals. Be prepared for large crowds and be patient while waiting in lines. Take extra precautions while traveling with children and senior citizens. The temple premises can be crowded, and the stairs leading to the temple can be steep.
Hire a local guide: Hiring a local guide can help you navigate the temple premises and understand the significance of the temples and shrines. A guide can also help you avoid any tourist scams or pitfalls.
With these tips, you can have a safe and enjoyable trip to Vindhyachal Mandir and nearby places.
In conclusion, Vindhyachal is a must-visit destination for those seeking a spiritual and cultural experience. The Vindhyavasini Temple, Asthtabhuja Temple, Kali Khoh Temple, Sita Kund, and Ram Ghat are among the most prominent attractions of the region, each offering a unique experience to visitors. Additionally, the town offers a range of accommodation options, including hotels and lodges, to suit the preferences and budgets of various travelers. Whether seeking a spiritual experience or simply exploring the natural beauty of the region, Vindhyachal is a great destination.
The Vindhyachal town's rich cultural heritage and religious significance make it an ideal destination for anyone interested in experiencing the vibrant Hindu culture of Bharat. Overall, Vindhyachal Temple and its surroundings are a must-visit destination for anyone traveling to the northern part of India.